After Hours Plumbing Rates: How to Make A Lot of Money as a Plumber

Are you struggling to make enough money as a plumber? Not everyone starts at the top of the food chain. However, that doesn't mean you should relax and wait for success to come your way. Instead, you should constantly be seeking to improve your business so you can make more money. One of the best ways to achieve that is to find something that sets you apart and makes your services special. For instance, you can make it so that you are available at any time of the day. Here are some ways you can make a lot of money as a plumber.
Offer Specialized Services
If you are looking to make more money charging after hours rates, a good idea would be to specialize and offer a specialized service that everyone requires. For instance, you can focus on septic systems only. If you market yourself as a plumber who deals with septic systems, you are more likely to be hired by a homeowner experiencing problems with their septic tank than if you were a general plumber. People believe specialists know more about certain areas, as they spend pretty much all their time addressing problems in those particular areas. You can also become a hydro jet plumber.
To benefit more from specializing, you should find a service that people are always looking for. For instance, some of the most popular plumbing issues are to do with drainage, leaks, and installation of particular components. If you focus on these areas that have high client traffic, you are basically positioning yourself as the go-to person for those services. To make the deal even sweeter, you can advertise yourself as a 24/7 service. That way, you can benefit from specializing and charging after hours plumbing rates.
Have Flexible Hours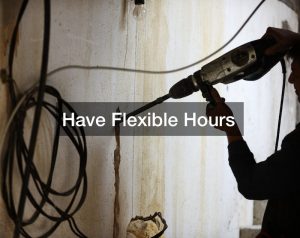 Problems do not have a timetable. To take advantage of all the opportunities that come your way, you need to have flexible hours. That way, even if someone has a plumbing problem at midnight, you can still show up and charge after hours plumbing rates. Word will spread so fast that you are always available and dependable. It's also highly likely that if you save someone from a serious plumbing issue in the middle of the night, they will see you as their knight in shining armor, and they will leave good reviews for your business online.
If you know you are available to work after hours, this should be one of your unique selling points. You should include this in all your marketing materials. That way, customers will quickly identify what sets you apart and why they should save your contact information on their phones. You can include this on your website, social media platforms, guest blogs, and any content that you use to market your business.
Cut Overhead Costs
Overhead costs can eat into the money that you earn, leaving you with less than you need. Fortunately, it's now possible to operate without many offices. You can be a mobile business with a massive online presence. While customers may not trust a business that doesn't have a physical address at times, you can work around this issue by having lots of positive reviews and references. If customers notice that no one is complaining about your services online, they may be willing to overlook the fact that you are only reachable by phone and email.
The moment you have offices, you will need someone to answer phones and tend to customers when they visit your business. All this is money that you end up parting with. Lots of commercial plumbing companies are taking this approach and ditching offices. You can do that too and make lots of money charging after hours plumbing rates. You just have to research more about how to make it an online plumbing business.
Stay Up to Date
Lots of new things are always being introduced in every field, and the plumbing industry is not an exception. This is why it's extremely important to ensure that you stay up to date with every change and new technology that's introduced in your field. That way, you won't appear as if you are an amateur in front of clients when they call you to deal with a system that's too advanced for you. This means you need to take time to research new ways of fixing problems and new types of plumbing systems. Because new plumbing systems keep being introduced, if you still with old plumbing fixes, they may stop working sooner or later. If you work in an industry like plumbing that's always introducing new things, you are better off knowing as much about the new plumbing fixes and systems as you can.
All you need to do to know what's new is to read some plumbing content from time to time. You can also look into professional courses that teach you about new things in the industry. All you need is to stay up to date. How you achieve it is your choice.
Build Customer Loyalty
Marketing your business is great for acquiring new customers. However, the only way to can benefit the most from those new customers is if they come back to you every time they have a problem you can solve. This can only happen if you establish customer loyalty. There are several ways to do this. One of the best ways to ensure that customers don't forget about you is to stay in touch with them through multiple channels. For instance, you can use social media to interact with your customers on a daily basis. On the other hand, you can also send weekly emails with plumbing tips and other information that can help you capture the attention of your customers.
Another way to foster customer loyalty is to show that you know the customer. Customers love being remembered. That's a great way to make them feel special and heard. If you treat every customer as if they are coming through your doors for the first time each time they approach your business, they will not feel valued, and they may move on to other businesses that give them the recognition they want. You can even run loyalty programs if you want to foster the loyalty of your customers. Loyalty programs are a good way to show appreciation to your customers. Another way to secure repeat business is to capture and take advantage of their feedback. That makes them feel heard, and there will be no reason for them not to come back next time.
Work for the City
Municipal work tends to be a bit intimidating for those who haven't attempted it before. Fears of personnel training, additional paperwork, and equipment upgrades can prevent some sewer cleaning contractors from taking advantage of this opportunity. However, working for the city can hold unique and valuable opportunities for your plumbing business. One of the main advantages of municipal work is payment assurance. The only thing you may have to deal with is long waiting times. As such, you need to consider carrying costs when you place a bid.
You should also structure your business so that you are comfortable with all expenses. It's possible that you may end up locking all your workers and equipment into a municipal job for a considerable amount of time. Most people who work with the municipality admit that they have no problems doing it again. Coordination with the city usually makes jobs so much easier.
Hire Help
Are you looking to increase your revenue? You can do this with your plumbing services and after hours plumbing rates easily if you hire help. If your marketing efforts are successful, chances are you will soon have more jobs than you can handle. Unfortunately, you will find that most after hours jobs are to do with emergencies. This means customers won't be able to wait until you are done with one job so you can come to them. They will likely look for another plumber if you are busy. To you, this is business lost. Since you can't be in more than one place at a time, a good move if you want to take advantage of all the jobs that come your way and the after hours plumber rates.
Hiring a team of workers ensures that you always have someone to help customers out, even if you are not available. If you decide to go with the hiring decision, you must take your time to select a team that will represent your brand well. Check to see if everyone has the right training and qualifications. You must also look into the history of everyone you hire. This means you may need to do a background check to ensure you are hiring the best candidate for the job.
Determine Long-Term Career Goals
The best way to ensure that your business moves forward is to plan. You need to come up with short and long-term career goals. Your goals will serve as a map to guide you, and they also serve as a reference point that you can use to assess your progress. For instance, one of your goals could be to increase your visibility for plumbing repair services. You may want to focus on repairs instead of new installations. This enables you to know what skills you need to focus on. You can even specialize that focus on being a repair plumber who is available 24/7. This makes it possible for you to easily take advantage of after hours plumbing rates.
From time to time, you need to go back to your long-term career goals to find out what you have achieved so far, what you are still to achieve, and what you are failing to achieve. That way, you can sit down and check if there are certain things you are doing wrong or right. The idea is to amplify what you are doing right and correct your wrongs.
Develop Effective Marketing
One of the most effective methods you can use to start making more money as a plumber is to have an effective marketing strategy in place. It's almost impossible to win without marketing your business. You need people to know that you exist and that you can be trusted. Most plumbing businesses are now doing their marketing online.
There are several online marketing methods you can use, but the first thing you probably need to do is have a professionally designed website. A website is like an online version of your brick-and-mortar business. It's the one thing that people can check out online to find out what they can expect from your plumbing business. If you offer after-market plumbing services or septic pump services, you can sell that on your website and make sure people know that you provide that service.
Having a website is a starting place if you are a residential plumbing business. You also need to make sure that the website is discoverable online. This is where services like SEO, or search engine optimization come in. SEO will enable people who are looking for your business to find you easily. Since you probably spend most of your time dealing with clients, it would be a good idea to hire a professional to execute your SEO efforts for you. You should also learn to make use of social media and the different paid online marketing services like Google Ads. This will put your business in front of people who are looking for your services, and you can make more money from after hours plumbing rates and plumbing inspection services.
These are some great ways to make more money with after hours plumbing rates. It's important to utilize every trick you can find to ensure your business grows at a steady pace.